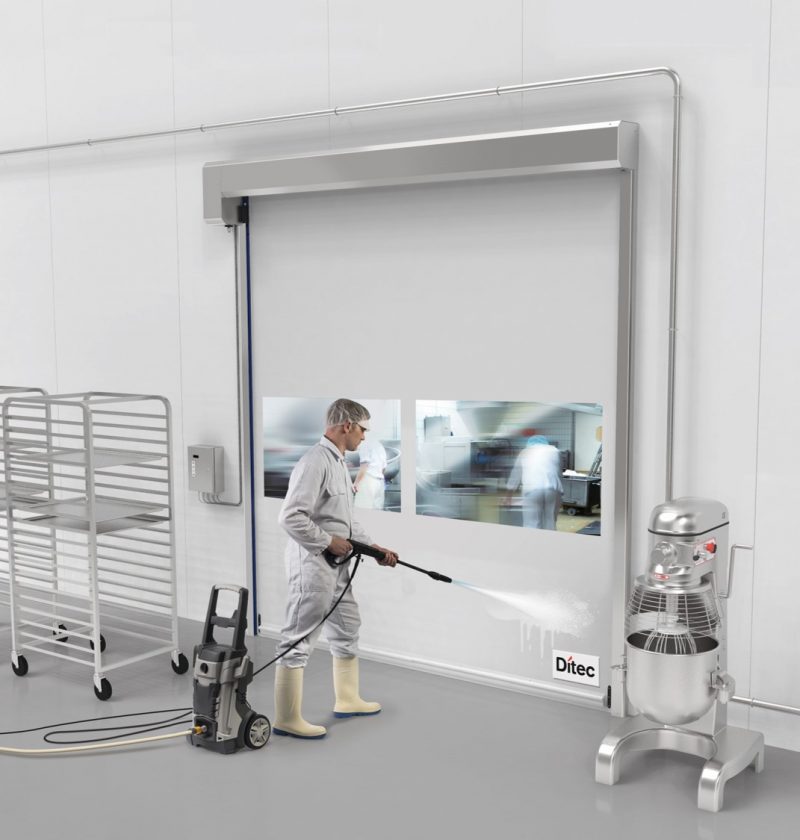 Ditec Soft Reset Food – Designed for food processing plants
The Ditec Soft Reset Food door is designed with the standards and requirements of the food processing industry in mind. It is the right solution for when you want to combine the advantages of a rapid door with a food environment. The Ditec Soft Reset Food door offers you fast and easy to control opening cycles and will help to achieve an optimal workflow.
FULLY WASHABLE
Thanks to the design of the door and the choice of materials, the Ditec Soft Reset Food will withstand frequent washing. The smooth upper cover with its sloping top will prevent the accumulation of water. Additionally, an extra drain solution can be added at the bottom of th curtain to help prevent droplets from falling into the door opening.
OPTIMAL HYGIENIC CONDITIONS
The high opening speed of up to 2,3m/s and the fast closing speed will assure you just the right time for your door to stay open. The flexible curtain offers excellent sealing against outside exposure and protection against unwanted elements.
USER-FRIENDLY OPERATION
The stainless steel control unit with its 32-digit LCD display will be your valuable assistant to keep you informed about the operation of the door. It is easy to adjust settings and plan maintenance. An accessible manual release system allows you to quickly open the door in case of an emergency.